Brain Health Pillars
Our non-pharmaceutical approach to healing the brain revolves around 6 lifestyle pillars. Together, they create the best environment for the brain to heal, positively change and reach its optimal potential.
The 6 Pillars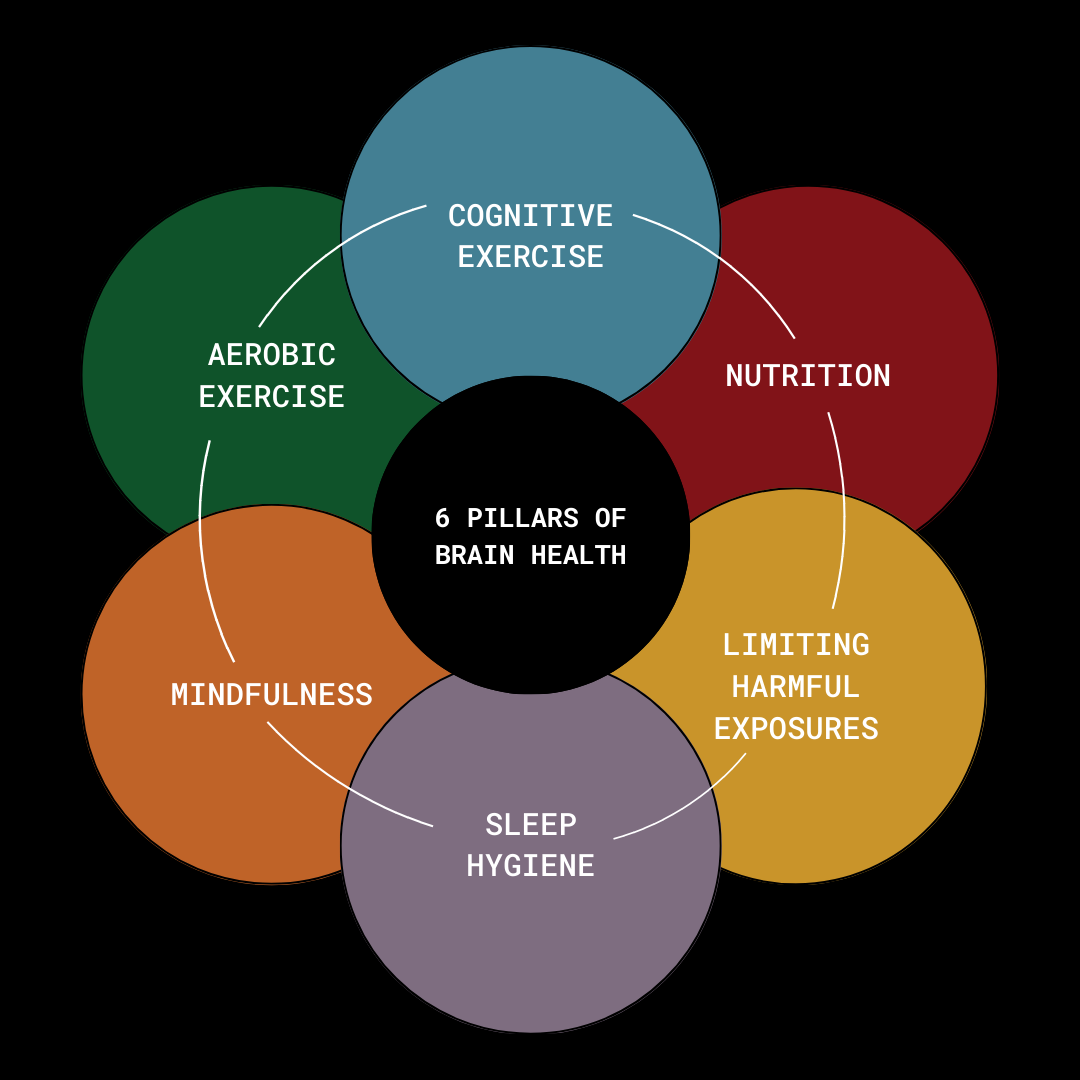 AEROBIC EXERCISE

Aerobic exercise is vital for healing post TBI. It's been shown to reduce neuroinflammation, increase the flow of blood and oxygen to the brain, and up regulate neurohormones that improve mental processing. This form of exercise creates new brain cells through a process called neurogenesis, promoting positive structural changes in the brain.
COGNITIVE EXERCISE

Practicing cognitive exercises is important to foster and strengthen relevant connections between brain cells. This type of brain activity promotes learning, memory, focus, and ultimately neuroplasticity — a.k.a. brain changes.
NUTRITION

There's an important connection between the gut and the brain. Foods we ingest can either have a positive or negative effect on both of these organs. In order to support healing and optimal cognition following a TBI, it's vital to eat a brain-healthy diet.
LIMITING HARMFUL EXPOSURES

Exposures can exist in our food, drinks, household and hygiene products, and our greater environment — all of which are harmful to our brains. These neurotoxic substances can interfere with healthy neurodevelopment and the brain's ability to perform optimally, change, and heal. 
SLEEP HYGIENE

In order to support healing and optimal cognition, adequate and quality sleep is essential. Supporting the brain with sleep-healthy habits and routines provides the best positive environment for our brains to recover and thrive.
MINDFULNESS

It's essential for TBI survivors to practice mindfulness meditation. This modality has been shown to have positive structural and functional effects on the brain. With mindfulness, our brains filter out distractive thoughts about our past and future. This makes room for us to focus on the present and the strengthening of new neural pathways (neuroplasticity).